Payments
Offer a seamless experience with your customer's preferred payment method
A full suite of payment products to embed and customize to your exact need.
Integrate with Fiserv payments in the best way for you
Hosted Payment Page
Reduce the burden of PCI DSS compliance and redirect your customers to our hosted payment page to manage the checkout process.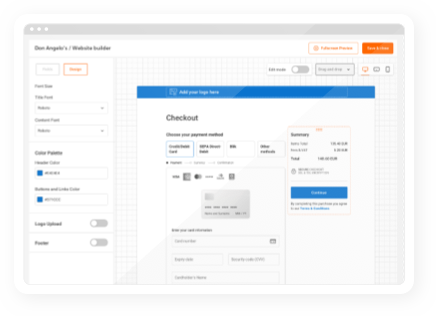 Payments API
Own the end to end customer experience and manage payments within your checkout flow natively using our API.
Payment Links
Create payment links via API you can send to your customers for invoicing, which leverage our hosted payment page to complete payment.
Key features
International coverage
Accept your customers' preferred payment method supporting popular card types, wallets and SEPA transactions.
Currency conversion
Use dynamic currency conversion to present prices in your customer's preferred currency.
Tokenisation
Utilise payment tokens to reduce the security and PCI compliance requirement of storing card data.
3D Secure ready
Fully support 3D Secure protocol v1 and v2 to reduce the risk of fraud and protect your liability.
Wallet payment methods
Offer modern payment methods to your customers with the support of wallet transactions like Apple Pay and Google Pay.
Recurring payments
Facilitate subscription based business models with payment schedules to capture recurring payments.
Frictionless and secure online payments
Leverage transaction risk scoring to apply PSD2 compliant exemptions to eligible online transactions to provide a frictionless customer journey and increase checkout conversion.
Types of SCA exemptions:
Article 18 - transaction risk analysis (TRA)
Article 16 - low value transactions
Article 14 - recurring transactions
Merchant initiated transactions
One leg out - issuer/acquirer outside EEA
Easily manage and handle disputes
View, manage and respond to your transaction disputes from cardholders in a timely and cost effective manner with our disputes API. Handle disputes from Visa, Mastercard and JCB all via API.
Choose the right solution for your business
Browse our catalogue and integrate with our APIs to enrich your clients' digital and in-store experiences.